This page and the information within is intended to act as an online resource for Hayes & Co Client, and all Livestock producers. The page will always be updated and current. If you believe you know of a resource that should be on here but is not – then please just let us know.
Customer Account Forms
If you are a new client and selling or buying livestock through one of our auctions you will need to complete the following forms.
Livestock Auction Terms and Conditions
All livestock are sold under the ALPA Terms and Conditions. Click the image to download the current version of those by clicking the image below
Queensland Cattle Tick Laws
There are new Cattle Tick Queensland Government regulations effective 1st of July 2016 that you need to be aware of when moving cattle. Click on the image to download the pdf.
Pre-Treatment form for clearing cattle at the saleyards
Tick Pre-Treatment Forms
In 2 formats – PDF  will open in a new tab where you can save or print it and Word Doc  will download to your computer.
Bovine Johne's Disease Requirements for QLD
For comprehensive information on Bovine Johne's Disease Requirements Click here
QLD Livestock Bio Security Laws
The Biosecurity Act 2016 commenced on July 1st 2016. As a Livestock owner you need to be aware of your Biosecurity obligations under QLD Law. Click on the image to download the PDF.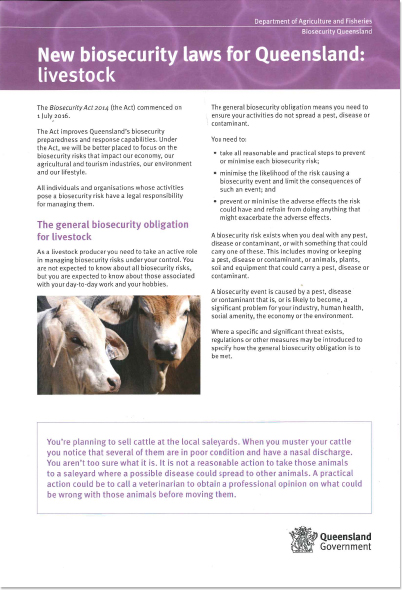 QLD Horse Bio Security Laws
As a horse owner you have obligations that you should be aware of under QLD Law. Click the image below to download the PDF that outlines those obligations.
PigPass Mandatory National Tracking System
PigPass is a national tracking system which provides real time information on the movements of all pigs in Australia. This enables authorities to quickly determine the source of a disease outbreak and notify people with pigs in the affected area to stop the spread of disease.
A PigPass National Vendor Declaration (PigPass NVD) form must be completed when you move pigs from your property. This applies to all pig owners and producers, regardless of the numbers of the pigs moved.
From 1 February 2018, state and territory governments will be introducing mandatory reporting of all pig movements to the PigPass database. Failure to comply with the reporting requirements may result in a penalty notice.
When transporting pigs off the property owners must complete a PigPass NVD ensuring all information has been completed in full, including the destination PIC. The receiver must 'close the loop' by reporting the movement online using the originating sender's serial number from the PigPass NVD. A receiver could be an abattoir, a pig producer, a pet pig owner, a saleyard, a knackery, a show or event or a livestock agent.
PigPass is designed to link pigs to a property of origin using a Property Identification Code (PIC), registered pig identification (ear tags and tattoos), and pig movement documentation (the PigPass NVD).
Whether you have one pig, 20 pigs, a pet pig or a Christmas pig – you must register with PigPass.
PigPass helps to ensure that the transport of pigs meets agreed industry and government standards relating to food safety, animal disease control and animal welfare. Don't wait until 1 February – register with PigPass – start recording movements now to protect your pigs and be ready to meet your obligations.
For more information or to register Visit the Pigpass site.