The latest version of the National Cattle Health Declaration Form version 20/05/18 is out and replaces the original form as part of your on farm Biosecurity. The new Cattle Health Declaration is much easier to use when selling through saleyards and private sales. Direct to works cattle do not require the form.
The National Cattle Health Declaration Form does not replace the NVD, just attach it to the NVD and pass on the buyer or your agent when selling cattle.
Cattle Heath Declarations are a way for producers to provide information about the health status of the cattle they are selling. Buyers should ask vendors for a Declaration and use the information provided to determine the health risks associated with the animals on offer.
Click the image below to open the new version in PDF where you can print or download it.
For more information about Property Biosecurity planning and requirements read this article.
The Biosecurity Act 2016 commenced on July 1st 2016. As a Livestock owner you need to be aware of your Biosecurity obligations under QLD Law. Click on the image to download the PDF.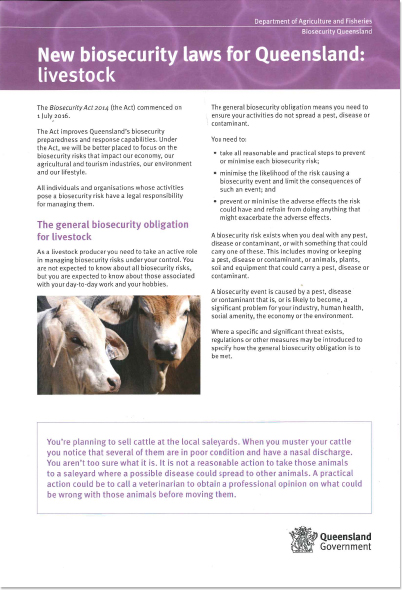 If you have any questions or doubts about using the new National Cattle Health Declaration please don't hesitate to contact our office or one of the livestock sales team.
Manager / Auctioneer
Peter Hayes
Owner/Manager/Senior Auctioneer/Sales: Covers all sales in SEQ and North Qld
0418 755 732
Click here to email me